December 2018: Highlining at -20° in ALASKA
What better time of the year to do some highlines in Alaska than in in Winter? And what better team for such a challenging mission than
Friedi Kühne, Mia Noblet 
and
Aidan Williams
.
This was a truly unique slackline adventure certainly the coldest highlining these guys did so far. Within one week they set up and walked slacklines over icy cold, halfway frozen rivers, between snowy peaks, and even over an abandoned gold dredge, which they walked under the stars. Thanks to the support of the
Red Fox Outdoor Equipment
they didn't freeze during this crazy project. Let these pictures by Aidan Williams speak for themselves.
November 2018: Highlining in the desert of Utah
Friedi kicked off November 2018 by meeting up with his good friends and slacklining legends
Andy Lewis
,
Spencer Seabrooke
and
Mia Noblet
in Moab, Utah. They set out to the famous Valley of the Gods, where they rigged and walked a 500m long tower to tower highline, beating the previous
US-American highline record
of 480m, which they had set themselves the year before.
Just one week later, they beat the same record again, this time with an 880m long highline at the Fruitbowl, near Moab Utah. Friedi became the first to walk that line and then later on walked almost the entire distance blindfolded, falling only 10m from the end.
The team celebrated their achievements right where they were, at GGBY at the Fruitbowl, the biggest slackline festival in the world. Together with Slackline US and powered by Balance Community, they rigged up the whole place with over 20 highlines, and celebrated with a community of over 500 outdoor enthusiasts, all coming together in desert to highline, basejump, and enjoy life.
October 2018: FREE SOLO in Yosemite
In October 2018, Friedi and his team of friends Aidan Williams, Lukas Irmler, Ryan Jenks, Kimberly Weglin, Kyle Lovett and Zollie Goodman went on a two week long trip to the world famous Yosemite Valley in California, USA. They set up and walked eight of the world's most spectacular and most alpine highlines. Friedi got the first ascent of a 296m long new line at Taft Point, which is currently the longest line ever rigged in the entire valley. He also became the third person in the world to free solo both the 15m and 35m long highlines that lead up to the famous Lost Arrow Spire, a granite pillar peaking at almost 1000m above the valley bottom.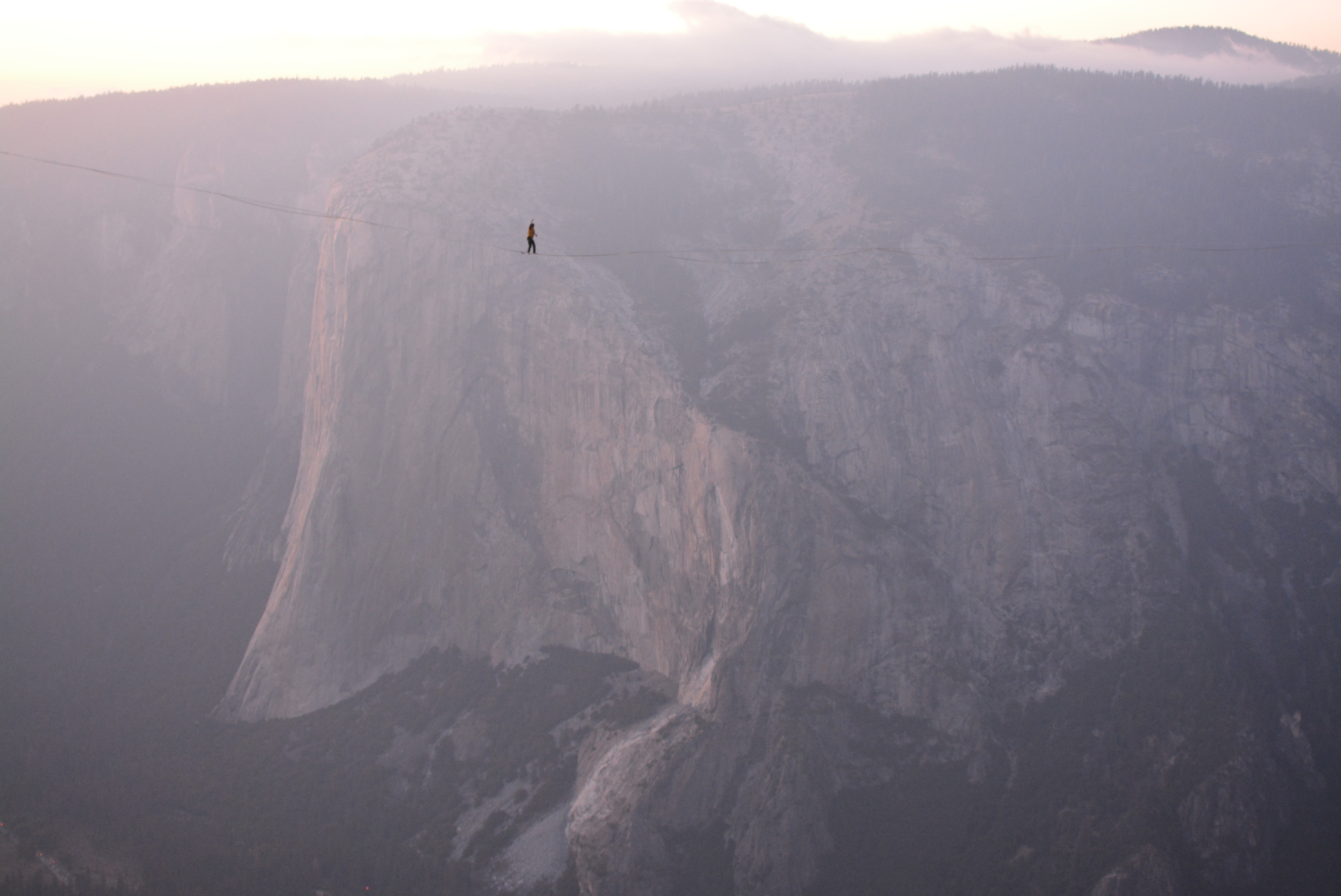 NEW HIGHLINE WORLD RECORD: 1.9km in Québec, Canada
The same team from Norway made another attempt to break the highline world record – this time over an abandoned mine in Asbestos, Québec. Friedi and five other athletes managed to walk the entire 1900m without falling and now share the new highline, as well as slackline world record. With a walking time of 1:25h Friedi was the second fastest out of the six athletes.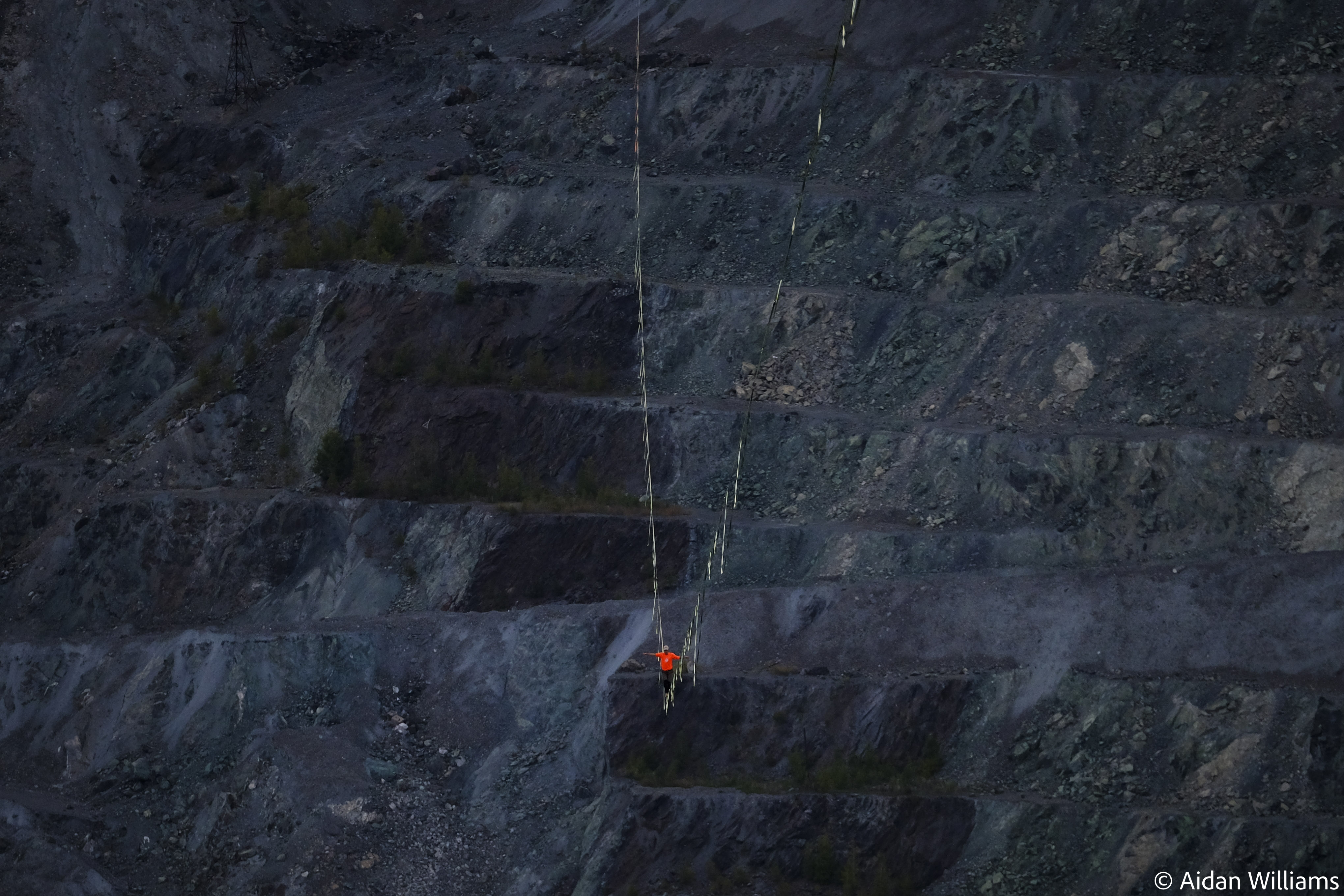 August 2018: 2.8km - A crossing of the longest Slackline ever set up
In August 2018 a team of the best Slackliners in the world went to the island of Senja in Northern Norway to set up the world's longest Slackline so far. Friedi crossed the entire line and walked a continuous 2200m before falling due to heavy winds, beating the previous tightrope distance world record of 2169m. Nobody managed to walk the whole line without falling, but it was the biggest project and achievement in the history of Slacklining. Get an impression from Friedi's crossing of this monster of a line in the video below.
April 2018: Russland
Mitte April 2018 konnte ich mir endlich einen langjährigen Traum erfüllen und auf Einladung meines Sponsors
Red Fox Outdoor Equipment
 zum ersten Mal nach Russland reisen. Die Reise war wunderschön und voller wertvoller Erfahrungen für mich. Der Trip bestand aus drei Teilen: Beim 2nd Russian Highline Festival in Kislovdosk am Kaukasus installierte ich gemeinsam mit der russischen Slackline Community die längste Highline Russlands. Diese 280m lange, 100m hohe und wunderschöne Line schaffte ich dann als erster und noch dazu auf den ersten Versuch. Damit hatten wir einen neuen russischen
Highline Rekord
aufgestellt und gaben der Line den Namen "Na zdrowie".  Die Stimmung in der Gemeinschaft dort war wahrhaft gigantisch! Dann ging es für mich weiter zum Elbrus, dem mit 5642m höchsten Berg Europas. Dort hatte ich die Ehre zur Opening Ceremony des alljährigen
Red Fox Elbrus Race
eine Highline Show vor den Teilnehmern und Zuschauern des Rennens zu machen. Mit 2500m über dem Meeresspiegel war diese Line nicht nur meine höchstgelegene Highline bisher, sondern auch bis jetzt die höchste in ganz Russland. Die letzte Woche meines Russland-Trips verbrachte ich im wunderschönen St Petersburg, wo ich neben Stadturlaub und Sightseeing Gott sei Dank auch noch Zeit für eine sehr abenteuerliche und außergewöhnliche Line hatte: Eine industriell-urbane Highline in einem verlassenen und verfallen Fabrikgelände. Videos dazu folgen noch!
Dezember 2017: Guinness Weltrekord in China
Im Dezember 2017 ging es für mich zum zweiten Mal zum Slacklinen in das Reich der Mitte. Gemeinsam mit meinen guten Freunden Pablo Signoret, Mia Noblet, Samuel Volery und Ryan Robinson trat ich zu einem
Guinness Weltrekordversuch
 der Spitzenklasse an: Wir sollten die weltweit längste
blinde
Highlinebegehung machen.
Dank unseres wochenlangen Trainings schafften wir alle die Highlinebegehung mit verbundenen Augen auf den ersten Versuch. Der Guinness Weltrekord Titel wurde dann Pablo Signoret verliehen, da dieser die Line am schnellsten überquerte. Gratulation und ein riesiges Dankeschön an das Slackline-Team
SDD
für den Aufbau der Highline und die Einladung zu diesem irren Event!
WETTEN, DASS...
Am 14.12.2013 hatte ich meinen ersten großen Fernsehauftritt, und zwar in der berühmten deutschen Unterhaltungssendung "WETTEN, DASS…". Meine Wette hatte natürlich Weihnachten zum Thema und lautete, dass ich auf einer Slackline stehend, durch Surfen, also seitliches Auslenken der Line, sechs Weihnachtsbaumkerzen nacheinander löschen kann. Und zwar ohne herunterzufallen oder abzusteigen und obendrein auch noch unter Zeitdruck. Die Wette gelang mir um Haaresbreite. Nur für den Wettkönig reichten mir leider die Stimmen nicht. Dafür wurde ich ganz knapp zweiter Platz und der Grundbaustein für die Karriere als Profi-Slackliner war gelegt!